This is the first in a series of physical challenges that will be set each week on the Street Motion blog. Challenges will vary substantially each week but all of them will focus on some aspect of strength or endurance relevant to Parkour and Freerunning. There will be a slight competitive element to the challenges where we will publish a league table so participants can show off their achievements.
Anyone can participate in the challenges whether you are a member of the Streetmotion Freerunning Academy or not. The idea is to attempt them in your own time, film/upload your progress and post on the Street Motion Facebook page or blog comments. All entries will get added to the league table and if enough people get involved we might do some sort of prize giving at the end of the year for the people who have made the biggest effort.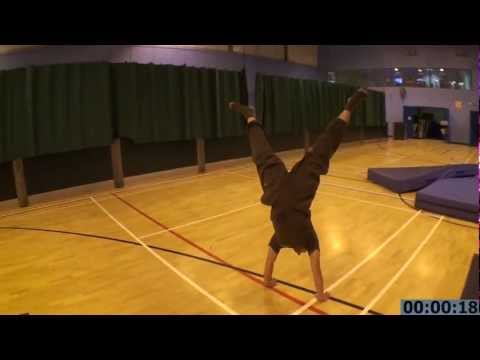 Urban Warrior Challenge #1 -Hold a handstand for 30 Seconds.
Nice easy challenge to start off with, you can do any style of handstand (legs appart or together .. makes no difference) but you must keep your hands static on the floor. If you have to start walking on your hands to stay balanced then it's game over!
If you cant manage 30 seconds don't worry, just try your best and upload your longest time. Likewise if 30 seconds is nothing and you can hold it for much longer film your longest attempt and we will add that to the league table as well.
Some people will find particular challenges more difficult than others, this is to be expected and is part of the fun. It goes without saying but we'll mention it anyway. Participation in these challenges is optional and done so at entirely your own risk. Most of the challenges should be perfectly safe for most people but if you think there is a medical reason why you may not be able to complete any of the challenges either give that one a miss or consult a doctor first.